Seattle Metropolitans Memorabilia Tour
Posted By: AW
Saturday, March 25, 2017
---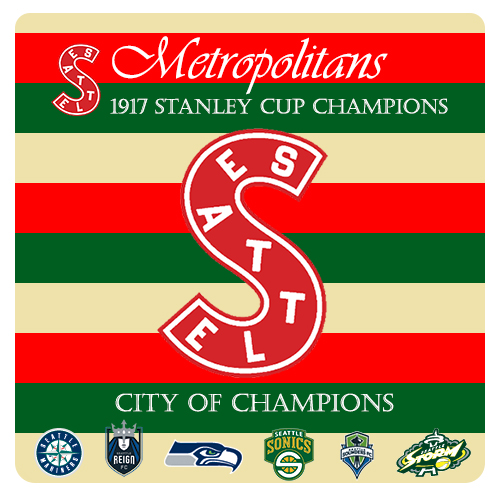 The Seattle Sports Commission is putting on a great tour of memorabilia to commemorate the 100th Anniversary of the Seattle Metropolitans winning the Stanley Cup in 1917. Events are happening March 25-28, 2017. A full list of events can be found here.
Here's a list of some of the artifacts coming to Seattle:
* Hap Holmes game worn jersey
*Frank Foyston skates from Seattle
*Frank Foyston personal trophy from Seattle
*Photos of the team
The Twitter handle for the guys that organized everything and paid for the Hall of Fame to come out is @PNW_Metros, so give them a follow and thank them for all the hard work they did to put this on!
2017 Summer Season Evaluation Skates
Posted By: AW
Wednesday, March 22, 2017
---
Greater Seattle Hockey League is excited to announce the dates for its 2017 Summer Season Evaluation Skates. If you are a player new to the are and are looking to join a team in GSHL, be sure to mark you calendars for one of the following dates.
Skate #1: Tuesday, April 18, 2017, 8:45 p.m., Olympicview Arena (Mountlake Terrace)
Skate #2: Sunday, April 23, 2017, 8:05 p.m., Kent Valley Ice Center
Skate #3: Wednesday, April 26, 2017, 9:00 p.m., XFINITY Community Ice Rink (Everett)
Skate #4: Tuesday, May 2, 2017, 8:00 p.m., Kent Valley Ice Center
These evaluation sessions are completely free to skaters and goalies alike. Just bring your gear and arrive about 30 minutes early to check in and get changed. You'll take part in some basic hockey drills (skating, shooting, etc.) and then participate in a light scrimmage. You'll be graded by league officials and then be eligible to be drafted by GSHL teams (once all evaluations are done).
If you have any questions, please contact the league. We look forward to seeing you on the ice!
2017 Advanced/Intermediate Camp
Posted By: AW
Wednesday, March 01, 2017
---
In addition to the Learn to Play Clinic, Hockey Educational Systems and GSHL are excited to offer another camp for Advanced and Intermediate recreational players. This is perfect for players who have a few seasons of experience and want to improve different aspects of their game (skating, passing, shooting, etc.). You'll be challenged (but not overwhelmed) by the HES instructors and see results by the end of the eight session.
Check out the
flyer
and get signed up!
2017 Learn To Play Clinic
Posted By: AW
Wednesday, March 01, 2017
---
GSHL is proud to continue its partnership with Hockey Educational Systems, a locally based hockey school focused on adult recreational players. Once again, HES is offering its "Learn to Play Hockey" Clinic, a perfect opportunity for those that are ready to play the best game on earth! You'll learn all the basics (skating, passing, shooting, etc.) as well as principles of team play.
Check out the attached flyer and get signed up!
Posted By: AW
Friday, May 06, 2016
---
If you are a Facebook or Twitter user, be sure to give GSHL a like or follow.
Of course, GSHL appreciates any shares and retweets you care to give! Thank you!
Winter Playoffs 2016/2017 League Leaders