Evaluation Skates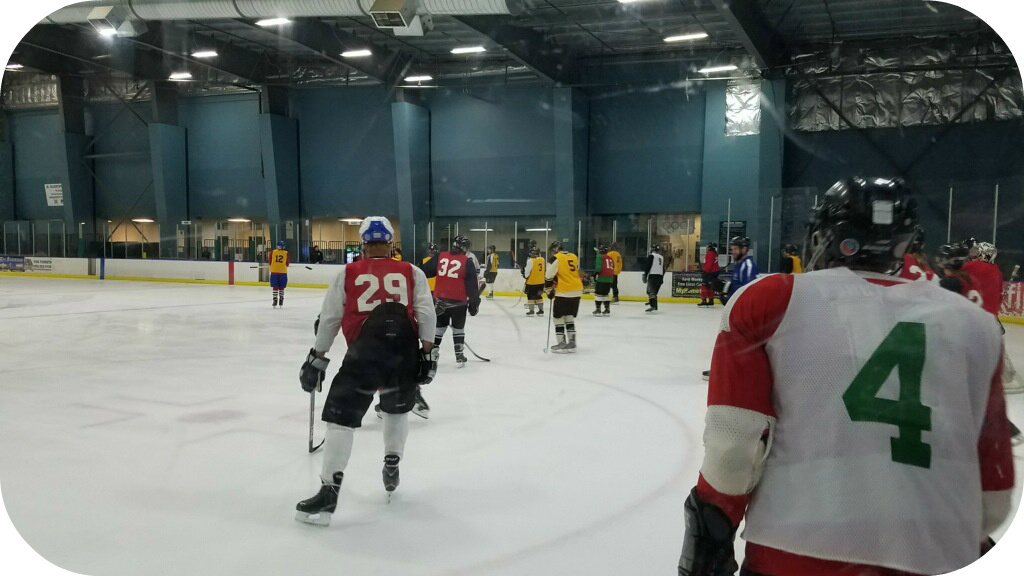 The Greater Seattle Hockey League (GSHL) strives to provide an evenly-balanced, competitive game for every player. To that end, prior to the beginning of each season (Winter and Summer), the league hosts a series of three to five complimentary evaluation skate sessions. During these sessions, participants are put through several drills -- including skating, shooting, passing, etc. -- followed by a light scrimmage. GSHL league officials are assessing each participants skill level to place participants in the appropriate division.
By participating in an evaluation skate, participants commit themselves to the player draft conducted right before the start of the season. Once a participant is selected by a team, the captain of the team they are drafted to will be in contact with the participant to review next steps.
Schedule
First, be sure to
register as a new player
prior to arriving. Next, choose one evaluation skate session to attend. We recommend that you arrive 30-45 minutes prior to the scheduled start time to allow for registration and suit up.
Evaluation skates for the Winter 2019-20 season are complete. YOU CAN STILL JOIN A TEAM! Please register as a new player.
Frequently Asked Questions
The Greater Seattle Hockey League is an adult league, so anyone over the age of 18 is welcome with no cap! We have new hockey players sign up that are over 80-years-old! You are never too old. In addition, we have a 40+ Draft League that is open to anyone ages 40 years and up.

We request that all participants register as a new player prior to arriving at the evaluation skate session they wish to attend. In addition, all participants are required to have registered with USA Hockey for the current season. Please bring your USA Hockey confirmation # with to the evaluation skate.
USA Hockey is the governing body for amateur hockey in the United States. They supply the basic rules, format, and supplemental insurance for rinks, players, and officials. This also helps us keep costs lower by not having to track down everyone's individual insurance cards and all GSHL's playing arenas require USA Hockey registrations for their liability as well.
Feel free to contact the league. New players may be placed onto teams before December 1 for Winter season and before June 1 for Summer season. A league official will decide which level and team to place you. If it is after roster deadlines, we will place you on a standby list for next seasons and help you get on a team then.
Yes! The GSHL is committed to providing ample opportunity for beginner/novice adult players. A vast majority of players in the GSHL started as adult beginners and the GSHL is always welcoming to those new players. The GSHL also offers our Learn to Skate & Play Hockey program.
The exact dues will depend on whether you sign up as a new, individual player or as a team. Individual and team pricing is determined prior to each season. Players who are brand new to the GSHL will typically pay the new player dues and have it applied to the team they join. If you contact a captain directly and join their existing team, the captain will work it out to pay more or less per player by having a larger or smaller roster, respectively. By joining through the league as a new player, you are guaranteed a fixed amount.
The GSHL does not rent, loan or otherwise supply any equipment/gear to players or participants. All players and participants must procure their own hockey equipment. All skaters and goaltenders will need a full set of ice hockey equipment (Skaters: click here. Goalies: click here.) For a list of retail shops in the area, head on over to the Pro Shops page.
Our Winter season consists of 23 games with double-elimination playoffs (2 games minimum to start). Summer season is 13 games with single elimination playoffs (1 game minimum). Every team makes the playoffs, so you get at least two (2) games extra in the Winter season and one (1) game extra in the Summer season. Game weeks begin on Sunday, and games are played through Thursday nights, with Friday & Saturday off. Generally, lower divisions (5 - 7) play earlier in the week while higher divisions (1 - 4) progressively play later through the week. Due to scheduling complexities, playoffs can occur on any night of the week (Sunday to Thursday).
GSHL games are conducted at the finest ice rinks in the Pacific Northwest. Our furthest southern playing arenas include Kent Valley Ice Centre as well as the Seattle Thunderbirds' accesso ShoWare Center. The northern-most playing arenas are Everett Silvertips' Angel of the Winds Arena. In-between these southern and northern rinks are Olympic View Arena and Lynnwood Ice Center. For more information, visit Playing Arenas. Sprinker Recreation Center is reserved for our Sprinker Draft League program.
Absolutely! You can either come out for an evaluation skate to have your skills assessed and placed in an appropriate division. On occasion, a player knows a captain that will take a player up or down to their team. As players become older, some choose to move to the 40+ Draft League. Most beginners and teams move up a division after one year as their individual and/or team skating and skills improve.
When you arrive at an evaluation skate, you will complete a smaller registration form that will ask for your name, plus information related to your playing preferences. Please print legibly so we can easily locate your New Player Application. After you suit up and hit the ice, participants will be put through several drills -- including skating, shooting, passing, etc. -- followed by a light scrimmage. GSHL league officials are assessing each participant's skills to place participants in the appropriate division based upon displayed skill level. At the completion of the evaluation skate series of sessions, the league hosts a captains draft about two weeks prior to the start of each season. Everyone can make a team if they want. The GSHL does not "cut" participants. Each participant who has pre-paid their new player dues for the season is guaranteed placement on a team. Everyone else who has completed a New Player Application and/or attended an evaluation skate may also be placed in the draft. Participants who paid their dues are drafted first, followed by unpaid participants, if spots remain.
If you registered as a new player and/or attended an evaluation skate, and can no longer commit to joining a team, please contact the league at LetsPlay@GSHockey.com so that we can remove your information from the new player draft. If you pre-paid your season dues, please let us know as well so that we can assess the potential for a refund.
Don't see an answer to your question? Email the league at
LetsPlay@GSHockey.com
and ask! We'll get right back to you.