Learn to Play Hockey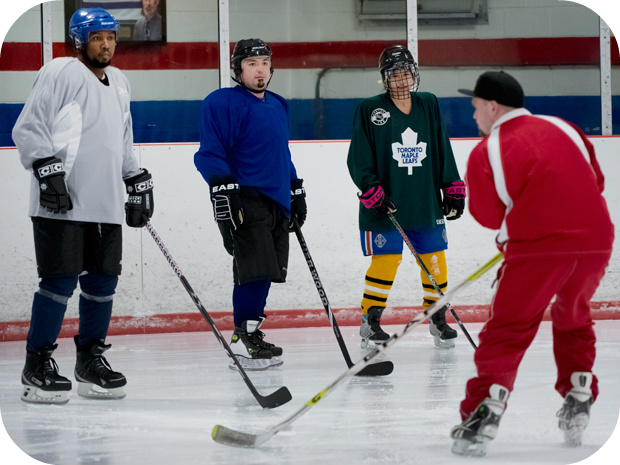 Learning to play hockey is more than just learning a game. More than skating, passing and stick-handling, hockey is about responsibility, respect and teamwork. As adults learn the skills needed to succeed on the ice, they also build and solidify important character traits needed to succeed off the ice.
The Greater Seattle Hockey League (GSHL) Learn to Play Hockey (LTPH) program aims to be the gold standard for hockey programs with the goal of inspiring more adults to join the hockey community. LTPH changes the way adult hockey is offered by providing weekly sessions of skill appropriate on-ice instruction by certified coaches in a fun and safe atmosphere. LTPH on-ice instruction plans have been developed in collaboration with experts from USA Hockey.
The GSHL hosts year-round LTPH classes -- ranging from beginner/novice to intermediate classes. The LTPH schedule and registration information is included below.
Learn to Play Hockey Program Schedule
No classes scheduled at this time.
To Register
If you are interested in registering for the GSHL Learn to Play Hockey program, here is how:
First, if you don't already have them, obtain both USA Hockey and GSHL Memberships.

Second, register for the LTPH session you are interested in by visiting

DASH, creating an account and selecting Registration.
From there, select your name > GSHL Adult Ice Hockey > Join a Team > and Register for Beginner Learn To Play Team/Class April 2018.
If you don't already have it, acquire all of your required -- and suggested -- hockey equipment.
Lastly, get ready to have fun in learning the game of hockey!
Equipment
Since the GSHL does not supply rental equipment, all participants are required to procure their own hockey equipment. The following is a list of required and suggested equipment items:
HECC-ice hockey helmet with cage, bubble or half-shield/visor

Shoulder pads
Elbow pads
Gloves
Ice pants
Shin guards
Hockey skates
White or black practice jersey
Hockey socks
Stick(s)
Suggested Equipment
Water bottle
Blade guards
Stick tape
Sock tape
Practice jersey of the opposite color
To acquire equipment, there are several
Pro Shops
located throughout the Puget Sound region. Also available are online retailers such as
Ice Warehouse
,
Hockey Monkey
, and
Pure Hockey
. (Note: These Pro Shops and online hockey retailers are not affiliated with the Greater Seattle Hockey League.)